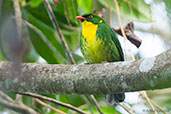 Sierra Nevada de Santa Marta, Magdalena, Colombia
April 2012

The Golden-breasted Fruiteater is distributed in the mountains of northern Venezuela, the Andes of Venezuela, the Sierra Nevada de Santa Marta and the western cordillera in Colombia. See the distribution map at NatureServe. It is found at lower and middle elevations in the forests of these mountains where its diet, as its English name suggests, is fruit.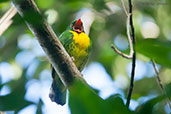 It has a coral red bill, grey legs and a yellow iris. The male has the throat and mid-chest bright golden-yellow. The sub-species found at Santa Marta, P. a. decora has a yellow line on the side of the neck. The female, seen here in photo 4, has green underparts with yellowish streaking.

The song is a high-pitched whistle.