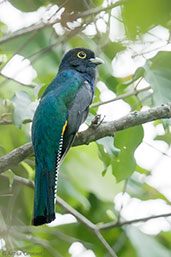 Minca, Magdalena, Colombia, April 2012

The Violaceous (Gartered) Trogon is distributed from north-east Panama into northern Colombia and western Venezuela. Howard and Moore 2013 and the South American Classification Committee classify Trogon caligatus as a species in its own right for the reasons set out here. However, the HBW and Birdlife International Checklist treat it as a sub-species of Violaceous Trogon.

It is found in the canopy and at forest edges where it feeds on fruit and, to a lesser extent, on insects.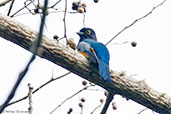 The male has a pale grey greenish bill and a yellow eye-ring. The crown, neck and chest are a shiny violet blue. The belly is yellow and the undertail has even black and white horizontal stripes with white tips to the feathers. The female is grey with a duller yellow belly. It has a white eye-ring broken above and below the eye and thin black and white bars on the wings.