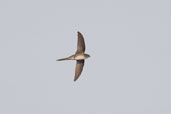 Belém, Pará, Brazil
October 2005

The Fork-tailed Palm Swift is distributed throughout most of the Amazon Basin and into central and eastern Brazil. See the distribution map at Birdlife International. It is found mainly in or near palm forest or along rivers and is often seen in towns and cities where there are urban parks as was the case in these photos.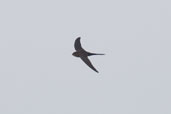 It depends on palms, mainly buriti Mauritia, for nest sites and it builds its nest on withered leaves.

It is a small swift with a long, forked tail. It is almost black above and brownish below with a whitish throat and belly.