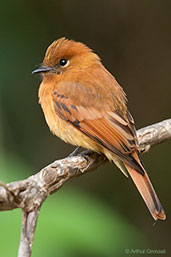 Colombia and Ecuador


The Cinnamon Flycatcher is distributed from northern Venezuela through Colombia, Ecuador, Peru and Bolivia to north western Argentina. See the distribution map at xeno-canto. It is found in clearings and at the borders of forest mainly from about 1,200 to 3,000 metres.

The disjunct population at the Sierra Nevada de Santa Marta, seen in photos 1 to 3, is a distinct sub-species P. c assimilis. This is the most cinnamon of all the sub-species with an almost entirely cinnamon tail and much less black on the wings.