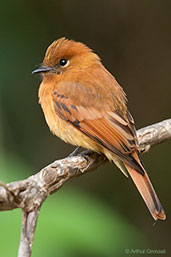 Santa Marta Mountains, Magdalena, Colombia
April 2012

The Cinnamon Flycatcher is distributed from northern Venezuela through Colombia, Ecuador, Peru and Bolivia to north western Argentina. See the distribution map at NatureServe. It is found in clearings and at the borders of forest mainly from about 1,200 to 3,000 metres.

The disjunct population at the Sierra Nevada de Santa Marta is a distinct sub-species P. c assimilis. This is the most cinnamon of all the sub-species with an almost entirely cinnamon tail and much less black on the wings.