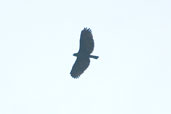 In flight, note the short and very broad wings with rounded tips that are narrow at the bases and swept a bit forward. Hilty calls them "butterflylike in shape". It has a long tail which is usually closed when soaring.

When not soaring, which seems to be display behaviour often accompanied by clear whistling cries, it is usually to be found in the forest canopy where it perches while looking for prey. This consists of birds as large as chachalacas and toucans as well as small monkeys, squirrels, snakes and lizards.

There are recordings on xeno-canto, a distribution map from NatureServe and additional information available via Avibase.