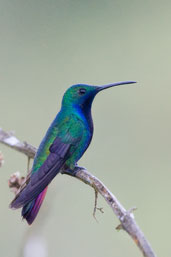 Brazil, Colombia, Ecuador and Peru

The Black-throated Mango is distributed from Panama through most of northern and central South America from Colombia to Peru and east of the Andes as far south as southern Brazil and north-eastern Argentina. See the distribution map at Birdlife International.

It likes open areas with scattered trees and bushes where it is normally seen fairly high up in the vegetation.

The main feature of the male, seen in photos 1 and 2, is the black breast and belly surrounded by iridescent blue-green. The black bill is slightly decurved and the tail is mainly deep chestnut with dark blue edges.