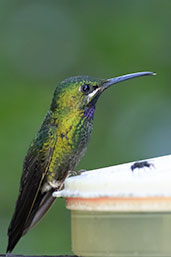 Wildsumaco Lodge, Napo, Ecuador
November 2019

The Black-throated Brilliant is distributed on the eastern slope of the Andes in Ecuador and Peru and into the Amazon Basin in the extreme south-east of Colombia and the extreme north-west of Brazil. See the distribution map at xeno-canto. It is found in lowland humid forest and higher on the Andean slopes at between 300 and 1,250 metres.

This photos is of a female showing the prominent white moustachial streak. The male is similar but lacks the moustachial streak and has black on the belly.