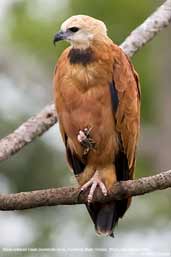 Pantanal, Mato Grosso, Brazil
December 2006

The Black-collared Hawk feeds on fish, aquatic insects, as seen in photo 1, and molluscs.

It is found near wetland and rivers in tropical Central and South America. It is normally fairly conspicuous, perching in the open at medium heights in trees or bushes waiting to swoop down and capture a fish using its long, curved talons with toes spiked on the underside similar to an Osprey Pandion haliaetus in order to help it grasp its slippery prey.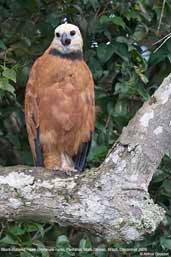 It is easily identified with its pale to white head, contrasting rufous cinnamon body, black crescent on upper chest, and black spots on upper breast, primaries and tail.

In flight it looks unusual with an extremely short tail contrasting with long, broad wings.

There are recordings and a distribution map on xeno-canto .