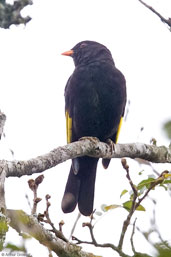 Teresópolis, Rio de Janeiro, Brazil
November 2008

The Black-and-gold Cotinga is a Brazilian endemic restricted to a small area of montane forest in the south-east of Brazil in the state of Rio de Janeiro and immediately adjacent areas of Minas Gerais and São Paulo. See the distribution map at Birdlife International.

It is found at between 1,200 and 2,000 metres and is normally in or close to the canopy. It is more often heard than seen and its call is a far-reaching, high-pitched whistle.

The male, seen here is all black except for the large yellow-golden patch on its wings and a bright orange bill. The iris is reddish-brown.