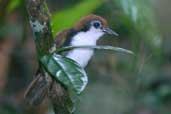 São Gabriel da Cachoeira, Amazonas, Brazil

The White-cheeked Antbird is distributed in Colombia, Ecuador, Peru and Brazil north of the Amazon and west of the rio Negro. See the distribution map at Birdlife International. These birds were photographed on the right bank of the rio Negro so were at the edge of their range. It is the lateralis sub-species in this area.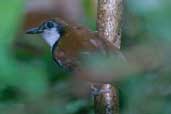 It is an obligate ant-follower and is rarely found away from an army ant swarm. The ants stir up all the insects, spiders, etc. that are living on the ground in leaf litter and the antbirds feed on these rather than the ants themselves.

The "bicoloured" aspect is the brown above and the white below but possibly the most striking feature is the blue area around the eye which does not occur in the closely related Bicolored Antbird G. bicolor.