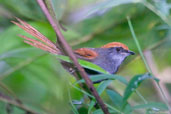 Boa Nova, Bahia, Brazil


This bird was described in 1995 by Pacheco & Gonzaga and named as Synallaxis whitneyi. Subsequently, in 2001, Whitney & Pacheco showed from skins at the American History of Natural History that the species had already been named by Wied in 1831 and that the name Synallaxis cinerea had precedence. Further examination of the taxonomic code led to a reversal of this back to S. whitneyi followed by another reversal back to S. cinerea. See the SACC Proposal.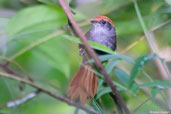 The Bahia Spinetail is a Brazilian endemic and is classified as Near Threatened given its very small range, restricted to a few remnants of forest in southern Bahia including Boa Nova as well as the Chapada Diamantina. See the distribution map at Birdlife International.

It has a rufous crown, wings and tail, a dark grey face, pale grey throat and deeper grey belly. Its iris is reddish-brown and it has a cinnamon-buff supercilium starting just behind the eye.