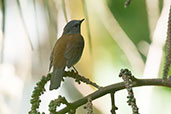 Otún-Quimbaya, Risaralda, Colombia
April 2012

The Andean Solitaire is distributed in the Andes from northern Venezuela to western Bolivia. See the distribution map at NatureServe. It is found near water in forested slopes mainly between 1,00 and 2,500 metres.

It feeds on insects and small fruits so is regularly seen near fruiting trees.