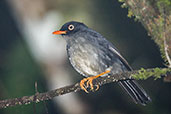 Sierra Nevada de Santa Marta, Magdalena, Colombia
April 2012

The Slaty-backed Nightingale-thrush is distributed from Costa Rica to Panama and in the Andes from Venezuela to northern Bolivia where it is found in the undergrowth of wet montane forest and cloudforest. There is a distribution map at NatureServe.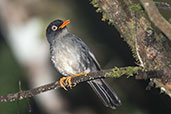 The bill, legs and eye-ring are orange; the iris is white; it is dark slaty-grey above and lighter grey below. The sub-species shown here C. f. sanctaemartae, confined to the mountains of Santa Marta, is the darkest of the sub-species.

Jeremy Minns recorded this same bird making its distinctive cat-like call.

He also recorded a different bird singing earlier that day.