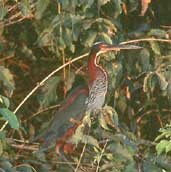 Pixaim, Mato Grosso, Brazil
September 2000 and December 2006
The Agami Heron is a shy, solitary bird. It hardly ever comes out into the open and is most frequently found at the water's edge under overhanging vegetation. It rarely, if ever, is to be found wading in the open.
Steve Hilty, in his fascinating book, "Birds of Tropical America", Page 28, explains that this habitat requirement is one of the reasons for its apparent rarity.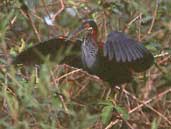 The name Agami comes from a Cayenne Indian name for a forest bird.

There are illustrations in HBW, Volume 1, Pages 378, 403 and 414; Hilty & Brown, Plate 2; and Sick, Plate 3.

There is a recording and a distribution map on xeno-canto.