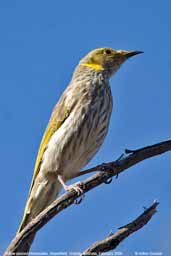 Wyperfield, Victoria, Australia
February 2006

The Yellow-plumed Honeyeater is distributed in the mallee areas of southern Australia from about Shark Bay in Western Australia to central NSW. It is found in mallee, mulga and eucalypt woodland where it feeds on insects and nectar.

Upperparts are olive-brown with yellowish-green edging on the wings, tail and crown. It has a distinctive yellow plume on the neck. Underparts are pale grey with heavy grey-brown streaks.