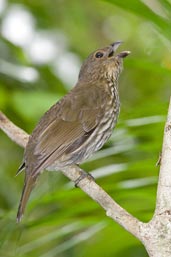 The name comes from the serrated edges of the bill which are just visible in photo 2. Food in the winter consists mainly of leaves and succulent stems and this serrated bill helps with this kind of food. During the breeding season the birds feed on fruits with some flowers, stems, leaves and insects.

It is olive-brown above and light brown below with heavy dark brown streaks and spots. It has a thin, rust-coloured eyering.

This male was singing on a horizontal branch about 3 metres above his display court which is decorated with fresh leaves placed pale side uppermost.