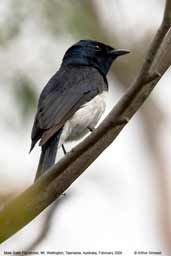 Mt. Wellington, Tasmania, Australia
February 2006

The Satin Flycatcher breeds in a broad coastal belt east of the Great Dividing Range of southern Queensland, New South Wales, Victoria and the south-west of Southern Australia as well as in Tasmania. Outside the breeding season of October to February it migrates up the coast reaching as far as Cape York and the Torres Strait islands. It is found in wet forest gullies.

The male, as seen in these photos, is glossy blue-black above and down to the breast where it contrasts strongly with the white underparts. The female has an orange-buff throat and upper breast.