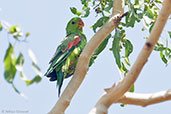 Adelaide River, Northern Territory, Australia
October 2013

The Red-winged Parrot is distributed in northern Australia and the interior of eastern Australia as well as in southern New Guinea. See the distribution map at Birdlife International. It is found in open Eucalyptus forest and various types of woodland usually near water.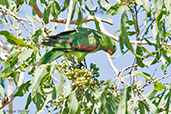 They feed on blossoms, nectar, fruits, nuts and seeds particularly those of eucalypts and acacias. They are usually seen in the canopy descending only to drink or to feed on fallen fruit.