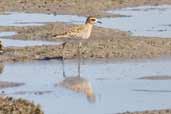 The Coorong, SA, Australia
March 2006

The Pacific Golden Plover breeds on the tundra of Siberia and Alaska and migrates to the Horn of Africa, south Asia and across to Australia and New Zealand. It is generally found in Australia between August and April.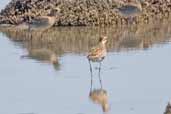 On migration, it is found on the coast in estuaries, salt marshes and mudflats but it is also found inland near swamps, ponds and on agricultural land.

These birds show the non-breeding plumage with a distinctive pale eyebrow and yellow-buff edgings to the brown feathers on the back and wings.