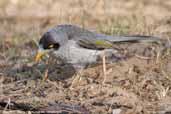 They are the only miner with a white forehead and a black crown and mask. The rump is grey and the tail is tipped white.

Photos 1 to 4 were taken at Mildura, Victoria while photo 5 was taken inland from Paluma, Queensland and photos 6 and 7 were taken in Adelaide, South Australia.

There is more information available via Avibase.