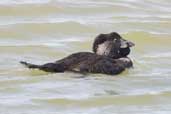 Australia
March 2006

The Musk Duck is distributed in south-east and south-west Australia. It is found where there are large, permanent swamps and also, outside the breeding season, on the coast or at sea.
Females and immatures lack this flap of skin as can be seen in photo 3.

These ducks spend almost all their time on the water where they dive for longish periods hunting for insects and their larvae, snails, shellfish, frogs, etc.. Their diving ability is enhanced by the setting of its legs well back in the body which makes it awkward to walk on land.