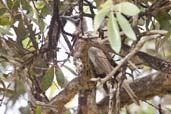 Kuranda, Queensland, Australia
November 2010

The Little Friarbird is distributed in northern and eastern Australia and adjacent areas of southern Papua New Guinea. It is found in forest, woodland and gardens but is usually close to water.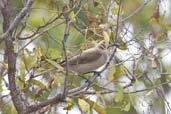 It is the smallest friarbird and the only one without a knob on its bill. The dark eye and bare blue-grey facial skin are distinctive. The scientific name citreogularis suggests that it should have a yellow throat but this is only true of immature birds. Unknown to him, it was an immature bird that John Gould had when he was describing the species in 1836.



It has a variety of calls and, though less noisy than most of the other friarbirds, it is still quite loud.