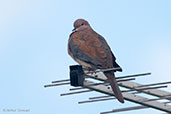 Perth, Western Australia
October 2013

The Laughing Dove is distributed throughout most of Africa except the extremely wet and the extremely dry, the Arabian Peninsula, the Middle East and into the Indian subcontinent. It is found in urban areas, parks, gardens and farms.

It was introduced to Perth, Western Australia, in 1898 and has spread through the wheat belt of south-western Australia.