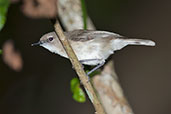 Cairns, Queensland, Australia
November 2010

The Large-billed Gerygone is distributed along the north and north-east coasts of Australia as well as Papua New Guinea and nearby islands. It is found in mangroves and in woodland along the coast and rivers.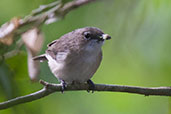 It feeds on spiders, beetles, moths, etc..

The bill is heavy, the eye is reddish-brown, there is a white spot at the bill and it has white "eye-lids".

The nest, seen here in photo 4 is a bulky, domed structure with a long ragged tail.