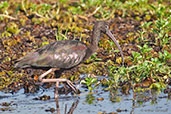 Kakadu, Northern Territory, Australia


The Glossy Ibis is distributed in southern Europe, Africa, central and southern Asia, Australia and on the Atlantic coast of North America. It is found in wetlands mainly inland but also on the coast.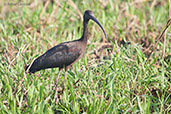 It is blackish with a long, decurved bill. In breeding plumage it is a dark purple-chestnut with green gloss on the wings. See photos in non-breeding plumage on my Middle East page.

Around the world this species is notoriously nomadic and, in Australia, its movements probably relate to the rains.