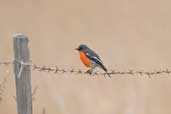 Wilson's Promontory, Victoria, Australia
April 2006

The Flame Robin is distributed in south-east Australia and Tasmania. Like the Scarlet Robin P. boodang it is found in forest and woodland in the breeding season but moves to more open areas in the autumn and winter.

Superficially similar to the Scarlet Robin it is distinguished by the smaller white patch on the forecrown, its dark grey rather than black upperparts and the red of the breast extending further up towards the throat.