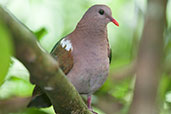 It is found in a wide variety of habitats including forest, mangroves, farmland, orchards and gardens.

The sub-species in eastern Australia, C. l. rogersi, shown here, is pinkish-brown with bronzed emerald green wings and dark brown flight feathers. The bill and legs are orange to red and the male has a white shoulder patch which is lacking in the female.

They feed mainly on the ground and primarily on seeds and fallen fruit.

The song consists of a series of low-pitched coos.