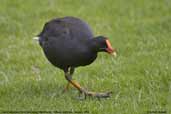 Melbourne Botanic Gardens, Victoria, Australia
January 2006

The Dusky Moorhen is distributed in the east, south-east and south-west of Australia, Tasmania and in New Guinea and nearby islands. It is found in wetlands with floating and emergent vegetation but with open water. It is also found in city parks.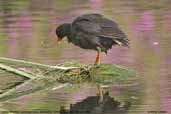 It has a red bill and shield with a yellow tip to the bill, a dark eye and legs that are red above the knee and either red or green below the knee.

Photo 4 is of a juvenile.

It is darker and more uniform in plumage than the Common Moorhen G. chloropus.