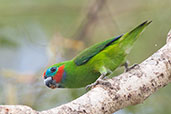 Port Douglas, Queensland, Australia
November 2010

There are three races of Double-eyed Fig Parrot in Australia: C. d. marshalli in the Cape York Peninsula; C. d. coxeni in south-east Queensland and north-east New South Wales and C. d. macleayana in north-east Queensland. All have different plumages particularly around the face. A further five races are to be found in Papua New Guinea and the islands. These photos are of C. d. macleayana.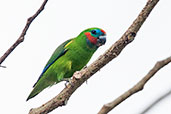 Photos 1 and 2 are of a male; photo 3 is a pair and photos 4 and 5 are of a female. As their name suggests, their staple diet is the seeds of wild figs but they also eat other fruit and seeds as well as the occasional insect.

They are found in rainforest, woodlands and gardens where there are fig trees. They are quiet when feeding and so can be hard to locate but they do have some distinctive calls.