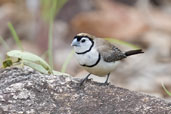 near Kuranda, Queensland, Australia
November 2010

The Double-barred Finch is endemic to Australia where it is distributed in the north and east from northern Western Australia through Northern Territory and Queensland to New South Wales and northern Victoria.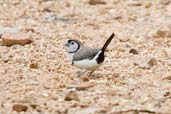 It is found in grassy woodland, scrubland, along water courses and in parks and gardens.

There are two sub-species. The one to the west and north, T. b. annulosa has a black rump while the nominate form, shown here, has a white rump.