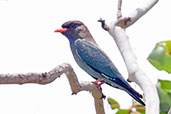 Mareeba, Queensland and Mary River, Northern Territory, Australia


The Oriental Dollarbird is the only member of the Roller family to be found in Australia. In Australia it is a breeding migrant arriving from Papua New Guinea and eastern Indonesia in September and leaving in April. It is also distributed in much of south-east Asia and China. See the distribution map at Birdlife International.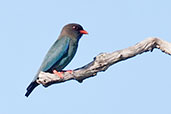 It is found on forest edges, in woodland, wetlands and farmland provided there are trees on which it can perch to hunt. It feeds on large insects which it catches on the wing.

Apparently it gets its English name from the blue-white wing spot which you can see in photo 4. Doesn't look much like a silver dollar to me.