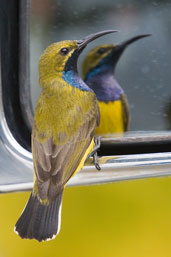 Queensland, Australia
November 2010

The Olive-backed Sunbird is distributed from south-east Asia through Indonesia, the Philippines and Papua New Guinea to northern and eastern Queensland south to about Rockhampton. It is the only sunbird to be found in Australia.

It is found in a wide variety of habitats from forests to gardens where it feeds on small insects, spiders, nectar and small fruits. It appears quite fearless and searches for its prey at windows and around cars as seen in photos 1 and 2.

The male has a metallic blue-black chin, throat and chest with the remaining underparts bright yellow. The back is olive-green, the wings are browner and the tail is black with thin white edging.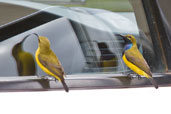 The female is similar but without the metallic blue areas. Photo 5 shows a female feeding a chick on the ground while photo 6 shows the long, spindly nest made from bark, dead leaves, spider webs, plant fibres and insect cocoons. The same nest can be used for many years.

There is additional information available via Avibase.