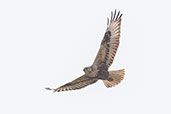 Pivot Fields, Dubai
November 2010
The Long-legged Buzzard is resident in north Africa, the Arabian Peninsula, south-east Europe, the Middle East and central Asia. Some of the Central Asia breeding population migrates south to western India, Pakistan and Iran as well as parts of east Africa. See Planet of Birds for a distribution map.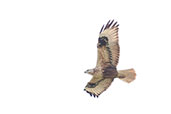 It is found in open, arid uncultivated areas with crags for nesting.

It is quite a large buzzard with long wings and a fairly long tail. The head looks smallish and the bill looks relatively large. There are a variety of colour morphs ranging from dark to light. In the UAE the nominate and more northerly sub-species is an uncommon winter visitor while the smaller B. r. cirtensis from Africa is a rare breeding resident as it is elsewhere in the Arabian Peninsula.

It is not very vocal but its commonest call is a short mew.