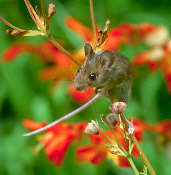 Edinburgh, Scotland
September 2001

The Woodmouse is found throughout Britain, where it is the commonest wild rodent, and in other parts of Europe.

It is identified by its large ears, protruding eyes, long tail and dark brown fur with white underparts.

They eat a wide variety of food including flower seeds as seen in these photos.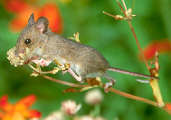 They live in complicated underground burrows that include nest chambers and food stores.

Few adults survive from one summer to the next. Predators include owls (mainly tawny), weasels, foxes and domestic cats.