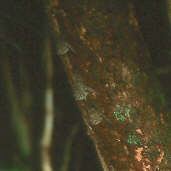 Anavilhanas, Amazonas, Brazil
July 2001

These are common bats and fairly easy to see roosting over or beside water during the day. A distinctive feature is the way that they roost in groups of anything from 3 to 45 in a line one above the other about 2 to 4 cms apart.

They roost on the lower side of a large branch, the steep face of a bank, below a bridge or, as in this photo, on the lower side of a leaning tree trunk.
The Sharp-nosed bat is predated by hawks, falcons and herons.

It is found from Mexico to South America east of the Andes as far as Mato Grosso and Minas Gerais, Brazil

There are illustrations in Eisenberg & Redford, Plate 4; and in Emmons, Plate 5.