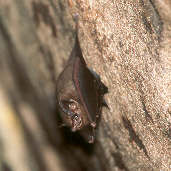 Presidente Figueiredo, Amazonas, Brazil
July 2001

While not a great batman, I am pretty sure that this is a Peropteryx species and I think it is probably Peropteryx macrotis. Confirmation or otherwise would be welcomed. Please contact Arthur Grosset.

It was roosting in some limestone caves at the Cachoeira do Santuario on the road from Presidente Figueiredo to Balbina.