Brazil
The small group of Howler Monkeys in photo 1 came down from this tree shortly after this shot as a very heavy thunderstorm came over.
The reason why we know, despite the poor light, that they are Red-handed Howler monkeys as opposed to any other type of Howler is that all eight species are geographically separated one from the other so, if we are south of the Amazon and east of the Purús River, they must be the Red-handed, Alouatta belzebul, species.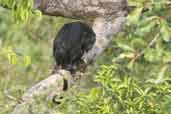 Although Howlers are the largest New World primates, they have remarkably small home ranges. This stems from the fact that they eat many more leaves than other primates who are more dependant on ripe fruit and therefore need a larger area in which to forage.
There is an illustration in Eisenberg & Redford, Plate 10.