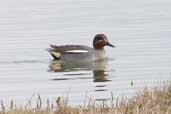 The Teal is found in North America subspecies Anas crecca carolinensis) and Europe, Asia and Africa (A. c. crecca). It is partly migratory but in most of Europe it is resident all year. Photo 8 shows a flock at Al Ain oasis in Abu Dhabi in early March on migration northwards.

It is a dabbling duck and one of the most abundant with about 7 million in North America, and over 1 million in Europe.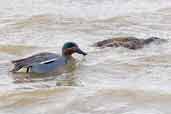 It is also the smallest duck and, when flying in dense flock formation, it looks almost like a wader. In flight, it shows a broad white wing-bar and a glossy green speculum.

In breeding plumage (photos 1 and 2, the male has a chestnut head with green sides surrounded by a thin yellow line. In eclipse plumage (photos 5 and 6), the males look very like the females.