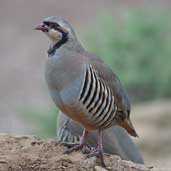 Sounion, Greece
November 2002

The Rock Partridge is found only in Europe in the Alps, Italy and through the Balkans into Greece.

This flock at Sounion in Greece was curious for a number of reasons: It was at sea-level whereas they are normally a mountain bird; it has a fairly large brown streak behind the eye more reminiscent of Chukar Alectoris chukar; and they were surprisingly tame, allowing me to get quite close to photograph them.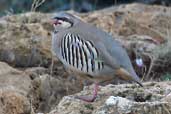 On the other hand, they were grey rather than brown on the upperparts, the throat was white or near-white, and there was some black at the base of the upper mandible.

I wondered if they could be a hybrid but they were some distance from the hybrid zone in northern Greece.