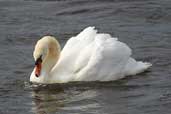 Scotland
The Mute Swan is originally from Europe and Central Asia as far as China but there are feral populations that have spread to most places with a temperate climate. Despite its origins it seems to be more closely related to Southern Hemisphere swans such as the Black Swan, Cygnus atratus and the Black-necked Swan, C. melanocorypha than the other Northern Hemisphere swans such as the Trumpeter, C. buccinator, the Whooper, C. cygnus and the Tundra Swan, C. columbianus.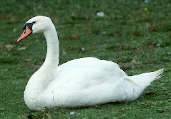 They are very large and powerful birds. When the males have territorial fights they can be quite terrifying as each tries to seize the others head and hold it under water.

The Mute Swan has become semi-domesticated in many places mainly for decoration but, particularly in the past, as a luxury food.