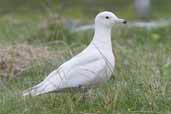 Ardalanish Bay, Mull, Scotland
June 2005

Warning. There is some doubt about the identification of this bird but I think that it is a 1st summer Glaucous Gull. Not being an expert on gulls, I consulted Birdforum whose members seemed to enjoy the debate even though they were far from unanimous in their opinion.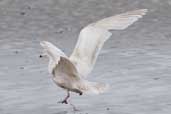 In favour of Icelandic were the following points:
• jizz - doesn't look "thuggish" enough for Glaucous
• rounded crown and the slightly more centrally-placed eye

In favour of Glaucous:
• the restricted nature and sharp edge to the black on the bill tip
• the apparently short primary projection

In summary, as one poster said:"What I see is confirmation of structural characteristics for Glaucous, a bird that can have virtually identical plumage to Iceland, and can supposedly only be reliably distinguished on structure, bill and such. The most obvious confirmation is that the primaries genuinely are relatively short, which is a very strong indicator for Glaucous. The bill looks fairly definitive for Glaucous as well, with the wide pink base and the short, cleanly demarcated black tip. "