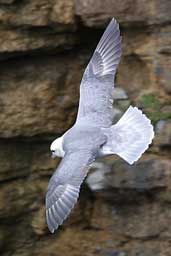 While they may look like gulls at a distance, their stiff-winged flight is very distinctive.

They are found in the Northern oceans and set up large nesting colonies on cliffs in about May. They only lay one egg and by July, the chicks are looking very like their parents.

In the UK about 100 years ago they were only found nesting on St. Kilda in the Outer Hebrides. Since then they have set up more than 500 colonies around the British Isles. A possible reason for this population explosion might have been the change in fishing techniques towards the end of the 19th century when, with the advent of power-driven trawlers and steam winches, etc., catches became bigger and the offal from the catch became more abundant.