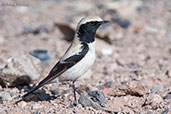 Morocco
April 2014

The Desert Wheatear breeds from North Africa and the Middle East and into Central Asia. In winter it migrates south to Africa north of the Equator, the Arabian Peninsula, Iran, Pakistan and north-west India. The North African populations are resident. See the distribution map at Birdlife International.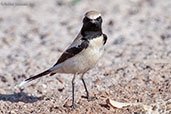 It is found in dry sandy and stony desert and semi-desert as well as dry steppes. It feeds mainly on invertebrates such as beetles, flies, grasshoppers, termites, worms, etc..

The tail pattern being all black is distinctive and the black wings join the black of the throat. Photos 1 to 3 are of males. The females (photos 4 and 5) lack the black of the face, throat and wings but share the distinctive tail pattern.