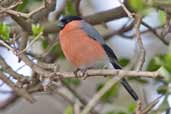 Scotland and Spain
The Eurasian Bullfinch is a chunky finch that looks as though it hasn't got a neck. Its colouring is distinctive. The male, as seen in the first 5 photos, has bright red underparts while the female, seen in photo 6 has greyish underparts. Photo 7 shows an immature bird.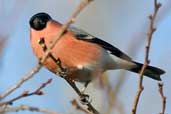 They are found in mixed woodland and coniferous forests in the temperate zones of Europe and Asia. See the distribution map at Birdlife International. They feed on seeds, shoots of fruit trees and fruit.

Bullfinches tend to be seen singly, in pairs or in small groups. A pair tends to be faithful to each other at least for the breeding season.