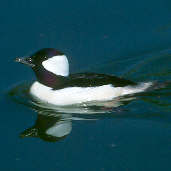 WWT Barnes, London, England
June 2001
Captive Bird

The Bufflehead is from North America where it breeds from Alaska to Hudson Bay and winters along the west and east coats of North America and in the southern USA and northern Mexico.

This photo is of a male. The female is brown with a smaller white patch on the side of the head.