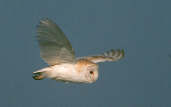 Caerlaverock, Scotland
February 2001
From a distance I thought this was a Short-eared Owl (Asio flammeus) if only because it was 1:30 pm and Short-eared Owls are more likely to hunt during the day than Barn Owls.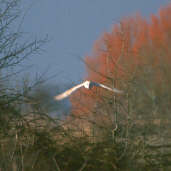 The Common Barn-owl is probably the most widespread owl and is found in all continents apart from Antarctica. There are about 28 subspecies and this is the nominate Tyto alba alba found in western and southern Europe.

It is found in a variety of habitats and, as its name implies, frequently roosts and nests in isolated buildings in villages and towns.

There are illustrations in HBW, Volume 5, Pages 35 to 71.