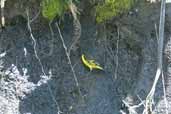 Chile


The Yellow-rumped Siskin is distributed in southern Peru, northern and central Chile and adjacent western areas of Argentina. See the distribution map at Birdlife International.

They are found in the Andes above 2,500 metres on slopes where there are some shrubs and near streams.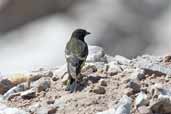 It is quite a large siskin with long wings. It has a black head, breast and back with yellow rump, belly and two yellow wing-bars. The flanks have dark streaks on the yellow. .