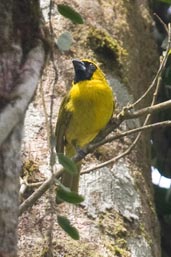 Mata de Balbina, Bandeira, Minas Gerais, Brazil
October 2008

The Yellow-green Grosbeak is distributed In the northern Amazon Basin from Colombia and Venezuela to Brazil and from the mouth of the Amazon to north-east and eastern Brazil.

It is found in humid forest usually from middle levels to the canopy.

Upperparts are yellow-olive while underparts are bright yellow and it has a conspicuous black mask. The bill is heavy and pale at the base.