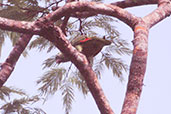 Rio Cristalino, Alta Floresta, Mato Grosso, Brazil and Napo River, Sucumbios, Ecuador


I have had a problem identifying the parrot in photo 1 but after a bit of investigation and a lot of expert help can now say that it is a Yellow-crowned Amazon.

I had quickly assumed that it was a Mealy Amazon Amazona farinosa and made the mistake of not having a closer look. Unfortunately, my photos do not show some of the more important identification features.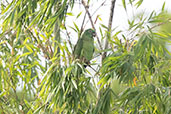 I was fortunate that both Jeremy Minns and Nolan Zeide were with me at the time. Jeremy made a recording of the parrot and Nolan later questioned the identification. This led us along several paths and finally to Bret Whitney who commented:
"Your parrot is Amazona ochrocephala (recording is 100% diagnostic, although photo alone would be difficult to judge) As far as I know, there are no confirmed records of A. farinosa (Mealy Parrot) from the lower Cristalino (upper Cristalino being essentially unknown). However, ochrocephala and kawalli are fairly common there."

The Yellow-crowned Amazon is distributed in the northern part of South America east of the Andes and extends into Panama. See the distribution map at Birdlife International. It is found in a wide variety of lowland habitats mainly below 300 metres.