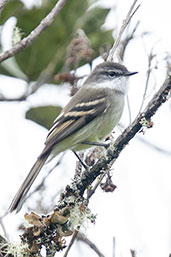 Chingaza NP, Cundinamarca, Colombia
April 2012

The White-throated Tyrannulet is distributed in the Andes from northern Venezuela to north-west Argentina and in the tepuis of southern Venezuela. It is found in montane forest, woodland and shrubby clearings mainly between 2,800 and 3,500 metres.

Its most distinctive feature is its puffy white throat but it also has a faint whitish superciliary and two prominent wing bars. The wing bars can range in colour from rufous to creamy-buff as is the case in the sub-species M. l. setophagoides shown here. Another distinctive feature is that it perches more vertically than congeners often with its longish tail hanging down.